Emilio
Emilio was found as a stray here on the farm a few months ago. We took him and thanks to the generosity of the wonderful people over at Community Cat Network, we were able to get him fixed and vetted within a few days of his arrival. Emilio now calls the sanctuary home, along with several other formerly-stray kitties.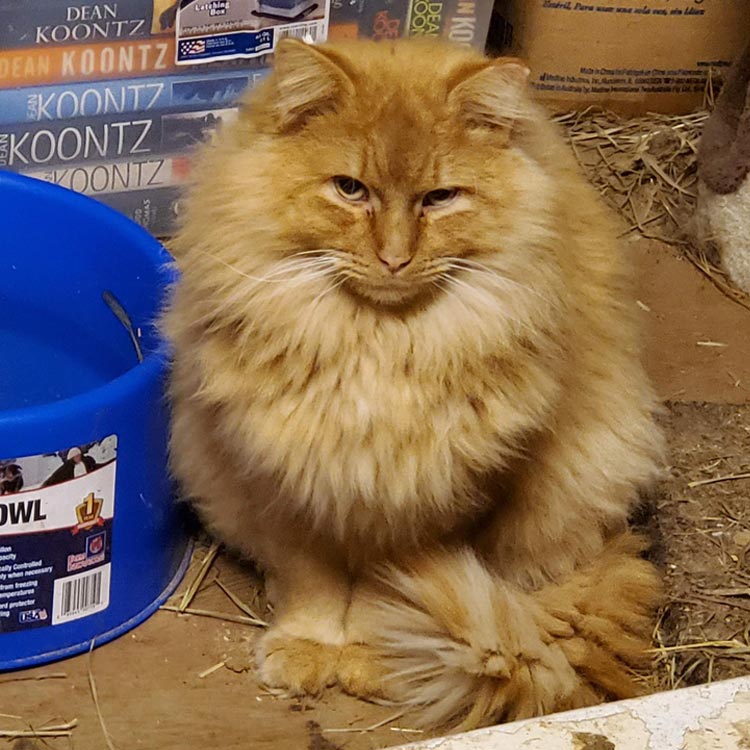 Joe
Joe came to us through a fellow rescuer. He had been hanging around her elderly mother's house and needed a warm place to be for the winter. Now neutered and fully vetted, Joe calls our barn home. He's become super friendly and often comes over to greet visitors.
Tommy
Tommy was a stray we took in at the farm 4 years ago. He's such a big, lovable goofball. More than anything in the world, he loves to spend his time with our two dogs, Penny and Bear. His attachment to them is so strong, we often joke he's like our third pup. He even rolls over to ask for belly rubs!
When Tommy isn't glued to the dogs, he can often be found cuddled up with his best feline friend, Pongo.
Yeti
Four years ago, we rescued a cold, hungry fluff ball who had been dumped at the farm. He was skin and bones, but his feet were HUGE! Bigfoot didn't seem like a very good kitty name, so we opted for Yeti.
After we got him fixed and vetted, Yeti joined our clowder of cats in the house where he's adapted quite well to indoor life. In fact, this little man has a talent for finding the warmest, comfiest places in the home and claiming them as his own. No more street life for him!